Your Brand Identity  + Website Designed Beautifully
Everything you need to level up your business and share it confidently! Book now for a refresh in 2023!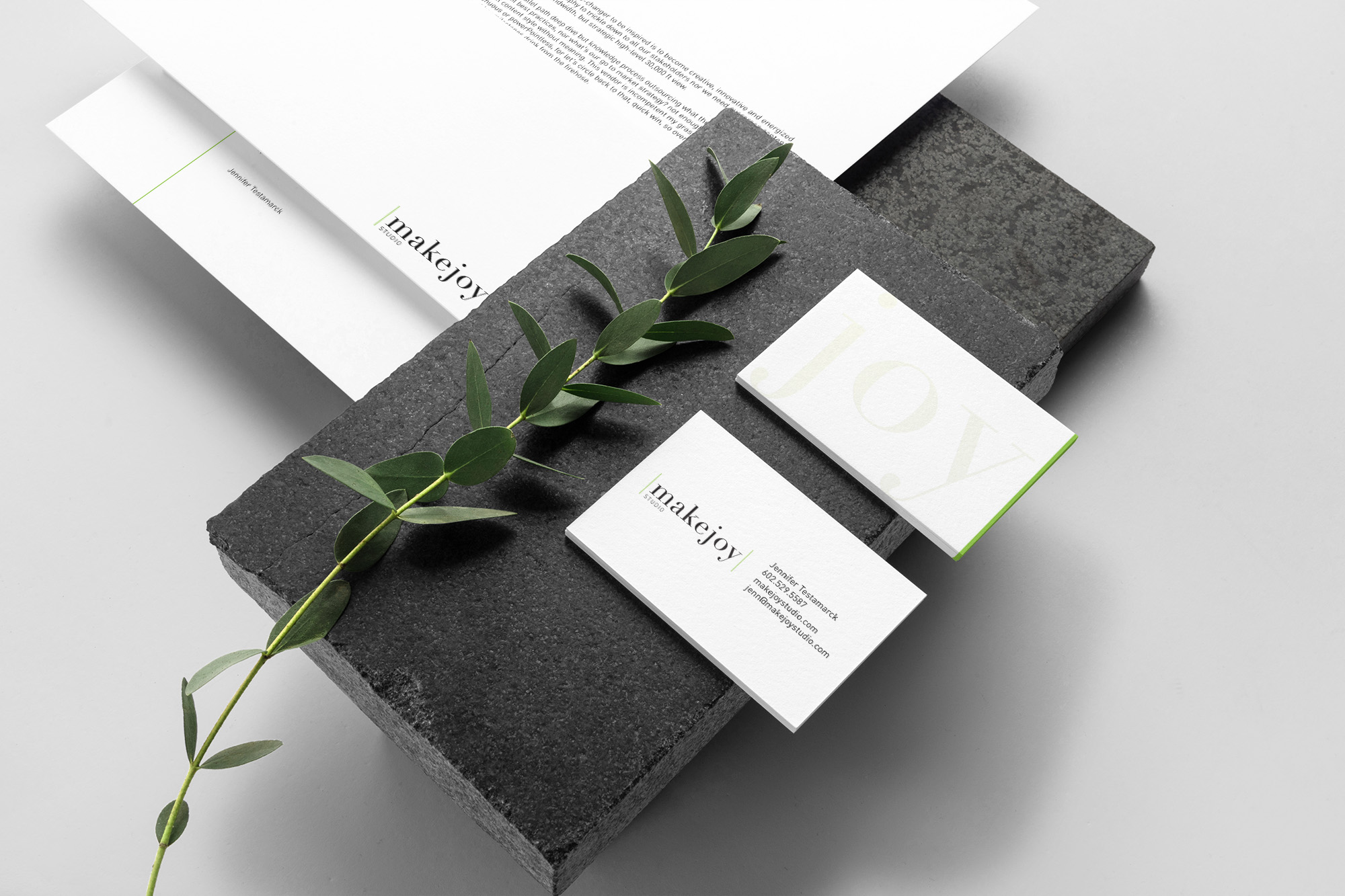 Designer | MakeJoy Studio
Your Business Deserves a Beautiful Brand
More than just a logo, your brand identity is your first impression and how your clients perceive you and your services.
When your brand looks beautiful and professional, you attract the right prospects and convert them into high-value clients.
Your brand identity is the look and feel of your business—shown through your logo, fonts, colors, photography, and graphic elements. If you provide high-quality, sophisticated services, then your brand identity should reflect that!
I'm here to design all of this for you!
As a brand designer and marketing expert for over 15 years, I know what it takes to take your business to the next level.
Haley Tew - Lavender Landscape
"I have hired Jenn on several projects over the years. Of any trade that I work with, MakeJoy Studio is the one I trust the most. Jenn has always gone above and beyond for me and well exceeded my expectations. She has not only developed my branding, but helped me formulate the very essence of my business. She has taught me so much about the importance of consistency on all platforms. Jenn is not afraid to tackle big projects but is nimble enough to handle the little ones quickly as well. I know that my brand will be well represented when I put a project on her plate. She may or may not like to admit it, but she has an incredible marketing brain as well and can help your company stand out in todays constantly changing markets. Highly highly recommend."
Jasmine Banks - Bankable Behavior
"Jenn was amazing to work with! She really placed an emphasis on putting my wishes at the forefront. I had a design idea that I was thinking of and she was able to bring it to life. She also provided me time and space to go over how everything worked so that I could feel confident in having an actual hand in my brand and the message I sought to tell the world. Jenn is great and I would definitely recommend her to any person who wants to take their business and brand to the next level!"
Candice Stenger - Amusing Momma
"I have had the pleasure of working with Jennifer on a few projects, and each time—she does not disappoint. Jennifer is responsive, quick, affordable, and efficient in what she does. She helped me out with some graphic design work, and it was JOY to work with her. I recommend Jennifer with MakeJoy Studio for any of your graphic design needs."
Get Your Brand + Website Ready for 2023!
Because I work with you one-on-one, there is limited availability for branding and website projects. Be sure to book now and get in the front of the line for the new year!
What's include in the Brand Identity + Website Package?
Brand Discovery
I start by digging deep into your business to find out what will visually attract your dream client & successfully communicate what differentiates you from the competition.
Discovery includes a client questionnaire and project kick-off call.
Concept Design
Once internal research & brainstorming concludes, I will begin designing concepts for your brand identity. The design will include the logo, suggested font combinations, and color palette.
You get a beautiful PDF via email to review and give feedback within two (2) business days.
Design Refinement
Following your review of the brand concept, I will collaborate with you to nail down the final brand identity, ensuring you get a design aligned with your vision. This includes two (2) rounds of revisions.
Brand Toolkit
In this phase, I will create a brand toolkit with your style guide and a master folder with all the logo files.
This brand toolkit means you now have a guide you or your team can follow to ensure you keep all future marketing materials cohesive with your brand identity.
Design Phase
I walk you through the content of your website and begin to build the layout that works best.
Utilizing your newly designed brand identity, I reflect your business in the design of the site, so all your potential clients know exactly what you provide and take the next steps through the Call to Action.
Website Launch
Before we launch, you'll have the chance to view your site in demo mode.
After approval, I'll help build a few social media posts that will help announce your new site launch.
Then we'll go live!
A personalized portal where you can view the progress of your project at all times
A 1-hour consultation call with me to kick-off your project
Social media posts built with your new brand identity so you can start sharing it with your clients right away
Video tutorial for how to update content on your website easily + assistance for first 3 months
Can I see MakeJoy Studio reviews from past customers?
Yes! Over the past 8 years, MakeJoy Studio has helped over 100 small businesses with their brands, website + digital marketing! Check out what they had to say after working with Jenn one-on-one.
Who is MakeJoy Studio and will I work with Jenn directly?
MakeJoy Studio helps female entrepreneurs make their services + products look their best by creating brand identities that elevate their marketing and give them the confidence that they are attracting the right clients + customers.
Jenn is the Owner + Creative Director at MakeJoy Studio.
After working in marketing for 7+ years, Jenn returned to The Design School to get her master's in Visual Communication Design. She started MakeJoy Studio organically when her circle of friends & past coworkers learned she was focusing on graphic design services for small businesses. For 8+ years, Jenn + MakeJoy Studio helps small business owners showcase their high-end services & products with a brand identity + website that become the framework for making their digital marketing easier.
Yes! You will work directly with Jenn!
Jenn runs MakeJoy Studio in a way where she can dedicate more time designing for her clients. Sometimes she might bring in a consultant or two to help under her design direction—all her clients know they receive results from her vision + talent.
Get Your Brand Ready for 2023!
As a solopreneur, there is limited availability for branding and website projects. Be sure to book now and get in the front of the line for the new year!
Book Your Brand Identity  + Website for !
Everything you need to level up your business and share it confidently! Book now–only 4 spots remain!
Fill out our quick questionnaire and we'll get back to you ASAP to talk more with you about your project.
Brand Discovery Call
Custom Logo Design
Custom Color Palette
Custom Fonts
Brand Style Guide
Master Logo Files
Branded Website
Brochure Site (1-5 pages)
WordPress Site
Email List Integration
Tour of How to Use Your New Site
Did I miss something you would like in your design package?
Book now by clicking the button above and during our onboarding call, I will let you know if I am available to perform additional items and can get you a quote.